Buyers
Buying a home? You may ask yourself, "how much are closing costs in Orlando."  More importantly however, you need to be certain that the seller is the true owner of the property and that no outstanding issues damaging title carry over to you. 
Why? Because if there are problems with the title it can restrict the use of the property and ultimately result in financial loss. That's where Sterling Title, LLC can help you. We conduct a comprehensive title search that will cover your investment with a title insurance policy to give you peace of mind that your ownership is free and clear of any issues. We will also help to ease your concern regarding how much are closing costs in Orlando by determining the best course of action during the close.
The cost is minimal and is only paid once. There are no renewal premiums, and there is no expiration date on the policy. Yet the protection lasts as long as you, or your heirs, maintain an interest in the property.
Sellers
Selling your house? Sterling Title, LLC will work with you to coordinate any satisfactions of liens and prepare all the necessary closing documentation to make the experience for you and the buyer as smooth as possible. We promise competitive rates, great communication and amazing service.
Buyer and Seller Benefits with Sterling Title, LLC:
Single point of contact
Full service on every transaction
Timely and accurate Orlando title insurance commitments
Superior communication
Knowledgeable and professional staff
Contract Upload capability or drop off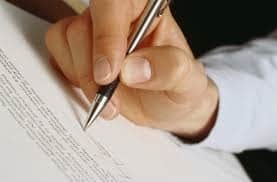 How Much are Closing Costs in Orlando
When purchasing a home in Orlando, one must always consider the cost associated with the close. How much are closing costs in Orlando is relative to the research and preparation done before jumping right into the home buying process. Choosing an experienced realtor is just part of the process; as the buyer, it is important to understand all fees associated with the purchase and what is required at closing. A company like Sterling Title can certainly assist in this process. Many times, if dealing with a realtor, he/she will have a title company they use regularly, if not, you must do your own research to determine who to select in this stage of the process.
Know Before you Go
Before beginning the home purchase process, it's important to ask your realtor, how much are closing costs in Orlando? These costs include, but are not limited to, an appraisal, inspection, survey, insurance premiums, mortgage loan, settlement and closing, intangible taxes, and document stamps. At times, one or more of these fees will be non-applicable but not often.
To determine the exact figure of how much are closing costs in Orlando, one must determine the items that are fixed based on state and local government laws. These fixed items are: document stamps, intangible taxes, settlement and closing, and mortgage recording fees. The remaining fees, survey, appraisal, inspection, and insurance can be shopped around for and compared to find the best rates. However, like many other things in this world, its important you don't go cheap. Its important to find reputable companies to handle these other fees.
So, how much are closing costs in Orlando? Well, that all depends on the agreement with the realtor. Some realtors, to earn a buyer's business, will absorb some (or all minus insurance premiums) of the closing costs. However, as a consumer, you must get this agreement in writing. Like anything else, it is important to protect yourself.